» A gift idea for your Russian woman – a frequently asked question "What to bring as a gift for your lady when visiting her?
May 21, 2018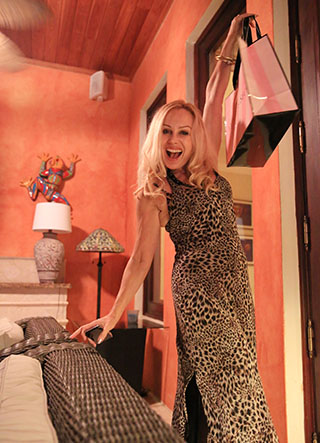 A gift idea for your Russian woman – a frequently asked question "What to bring as a gift for your lady when visiting her?"
Darling, I have something special for you!
Choosing a present for the woman of your heart may be really a test for you. Your lady can read information about your personality and attitude from the gifts that you give her. It's true that women like to receive presents! They all like something original. However guys not always can guess what's going to suit his woman's taste the best.
Analyze and think what can really excite your woman. You can impress her with your present or just can give some feeling of pleasure and delight, or even disappoint her. Anyway, Oksanalove online-dating agency witnessed all the gift ups and downs. So, if you want to learn from others mistakes or follow others success than, here we go!
Before we start discussing what to bring and what not to bring for your lady, here's one example that's absolutely unacceptable!
In our experience of watching after the development of our clients' relationships we had a case when two people finally found each other. They seemed as they completely felt in love one with another. A groom was on his way to his bride's home-country intending to merry her. On the first romantic meeting (date) he brought a present with him - some pasta, ketchup, and spam and stuff what made her a bit angry and offended. Then she could just laugh at it asking herself if her man thinks she's starving, or did he want some charity, may be she's too skinny for him, etc. All this of course damaged their good relationships and gave the lady a negative impression of the man that she has chosen.
Absolutely ignore an idea of giving her clothes. The answer is simple - you don't know woman's exact size and style. Besides, Russian style of clothes for women can be quite different from the abroad fashion. So, don't even bother to bring her any jeans, blouse or dress.
It's amazing how much the presents can impact couples' relationships! If you not sure you want to make something special for your special Russian woman than just make a pleasure for her.
A low cost and cute little presents:
You can find out how you can bring your girlfriend some chewing gum, chocolates in different boxes choose cute boxes – girls love it, etc.Candies are a nice little present and girls love sweets.
Gifts for women who have kids
Please, think about things to give if woman have children. Something like cute tennis shoes would be a huge hit. Sport suite with a known brand, t-shirt from Addidas or Nike is also a nice present and will be a huge hit. If you get a heart of your woman's baby – then you definitely will get your woman's heart!
If she has a small kid, then sweets will work well again.
Wonderful gift ideas for young and sexy women
If you want to make something special for her and want her to think of you more often - get her a good perfume. "BLV" – from BVLGARY suits the tastes of the younger girls, it comes in a blue bottle and absolutely loved by them. It's a gorgeous and very sexy fragrance, kind of expensive, but very nice. You'll love your lady to wear it! Besides, whenever she's going to use it, she will subconsciously think of you in the way she can describe "BVL" odor. The thing is that young ladies like to wear something smooth, fresh, and not too sweet. MEXX woman or Jil Sander's "PURE" line is also a great advantage.
"Victoria's Secret" has nice body treatment products and perfumes also, it is not expensive at all but comes in beautiful present boxes and have excellent quality and fragrance.
Wonderful gift ideas if your woman 35+++ years old
Chanelle № 5 – is very elegant and kind of smart, created for older ladies.
Anyway, if you guys have any doubts or questions regarding the presents do not hesitate to ask Oksanalove dating agency staff. We'll be happy to help and provide our clients with information!